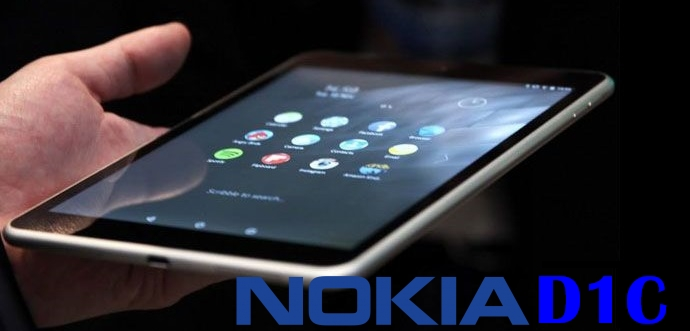 Nokia D1C
Nokia is all set to come back into the cellphone/tablet manufacturing game. It has been ages since mobile phone lovers have heard anything from Nokia, the Finnish brand. Nokia successfully dominated the mobile space for many years like no other brand in the market and quietly took a long break from the competition. Meanwhile, the torch was successfully carried forward by the likes of modern-day smartphone giants like Samsung, Apple and other brands that joined the market to cash in on the smartphone craze.
The company has recently been spotted on one of the famous benchmarking websites called Geekbench, with the news that Nokia is once again all set to come back with its first ever tablet called the Nokia D 1 C.
Specifications of NOKIA D 1 C  
Nokia D 1 C, the amazing Android based tablet will flaunt some amazing specifications listed below:
Full support for network 4G LTE/3G/2G
SIM Type DUAL-SIM(4G+4G), Micro SIM
Fully HD display of 13.8 inches with Gorilla Glass 3 protection
Android Nougat 7.0 operating system with Nokia Z launcher
Full support for Wi-Fi
Processor: Octa-core 1.4GHz, Snapdragon 430
3 GB RAM
16 GB Storage of which 9 GB available
128 GB MicroSD card Slot
16 MP Primary camera
8 MP Secondary camera
Bluetooth BT 4.0
3120 mAh Battery
Electric fast charging
One-piece design, Aluminum with surface anodization
Availability in Black and White colors
Never judge the book by its cover. While users thought Nokia was gone forever, the company has made a comeback with something exciting in the form of the Nokia D 1 C mid-range Android tablet. Talking about its features, it is definitely not less than the tablets launched by Nokia's toughest competitors in the market.
What Makes Nokia's D 1 C so Special?
Let's have a detailed look at some of its appealing features.
Display Size:
Users just love the big display size for enjoying their favorite videos and photos. The company has provided 13.8 inches of display that comes with gorilla glass 3. Since Nokia is launching an Android based tablet, Gorilla Glass protection is going to be offered in a tablet for the very first time. The display is fully HD and it is further capable of supporting 1920×1080 screen resolution to allow users to relish the best quality photos and music videos. Most importantly, it is a fully laminated zero air-gap display.
Powerful 3120 mAh Battery
Battery life is always an area of problems with Android based tablets. This is why Nokia has decided to give a powerful battery of 3120 mAh to all of its potential customers. This battery also charges at electric fast speed and saves a lot of time. Most importantly, all of the users will be able to do their work or watch videos, play games, browse internet, use Whatsapp, or listen to their favorite videos for a longer period of time. Users will certainly not face any battery related problems with Nokia's D 1 C Android based tablet.
See Also: Nokia C1
High Camera Quality:
Users need not worry about the camera quality as the company is providing an 8 megapixel secondary camera and a 16 MP primary camera. LED flash will also add to its camera quality significantly and will play an important role to take its performance to the next level. Both cameras of the Nokia D 1 C are capable of recording lifelike high definition videos.
Design:
The design of Nokia D 1 C is likely to be very impressive. It is going to be a one-piece design with an aluminum body that is ideally considered suitable for surface anodization.
Nokia is not likely to launch this first mid-range tablet under its own banner until the end of a legal contract signed with Microsoft. Users will not need to wait for a long time as this contract is about to end at the end of the 4th quarter of 2016.
With so many features and specifications, it will be very interesting to see the way Nokia makes its presence felt with the Nokia D 1 C Android tablet.