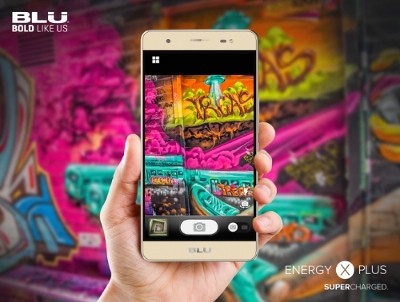 Did you ever turn off features of your phone to save battery to get through the day? Well, BLU has introduced another smartphone to solve this issue, the BLU Energy X Plus. The company has included a 4000mAh battery which is comparatively more compact than the one found in the BLU Studio Energy that was released at the beginning of 2015.
As far as the screen is concerned, it is 5.5-inch, 720p, IPS display with MediaTek's MT6582 processor that will surely help make the battery last for a longer duration. BLU Energy X Plus incorporates a comfortable feel and a look-good display. Even the build of the Energy X Plus is astonishing as it is a plastic body that looks like a metal one. Due to the 4000mAh battery, the smartphone weighs a little more than its peers. It supports a dual sim card slot and microSD card for expandable memory. Which is great as it comes with just 8GB of onboard storage. However, 5.27GB of storage is available out of the box.
BLU Energy X Plus has a vanilla android approach. Significantly, the icons have changed and have become themed. Additionally, themed icons are also present in settings. After installing a third-party launcher, all of this could likely be fixed. With this minimal skin, the app drawer is absent and instead all of the apps are located on the screen. Manufacturers love changing the display, but the audience comes up with mixed reviews regarding this characteristic. Unfortunately, there isn't any 4G LTE but 4G HSPA+ is present in the BLU smartphone.
Verdict
The BLU Energy X Plus is an absolutely amazing smartphone that incorporates few great features. It is hard to find any real negatives at this price point.