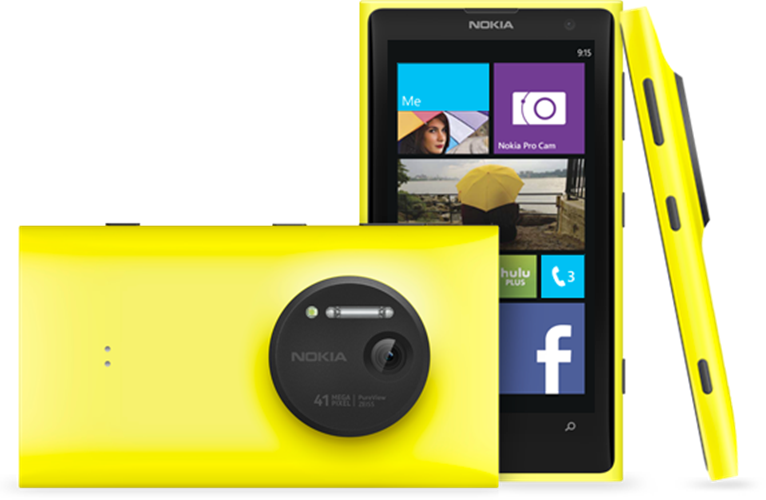 The Nokia Lumia 1020 by Nokia was first unveiled on 11 July 2013 at a Nokia event in New York and has caught the fancy of people ever since. The Lumia 1020 has very nicely been wrapped up in a unibody polycarbonate chassis, which does bring about a certain confidence within users about the device's durability. The Gorilla Glass 3 on the front of the 1020 is flush with the edges, which ensures that you do not feel any pauses when running your fingers through the device. The device has been made available in three lovely colors (yellow, black and white), each with a matte finish along with a coating that is both dirt- and fingerprint-resistant.
The Lumia 1020 offers a vast 32GB of internal storage, which is normally enough space for most users. Even for those who are going to utilize the phone's numerous camera features to the fullest might just feel that the storage capacity is just enough to park their captures. That said, you actually can't notice how pivotal a role the camera plays in the Lumia 1020's performance. It has been made for the photography enthusiast. For them to be able to enjoy the performance closest to that of a DSLR. With that end in mind the Lumia 1020 takes their PureView tech and improves upon the imaging experience of a smartphone. For one, rather than having to switch between creative mode and high-resolution shots, the 1020 now takes both at the same time, delivering a 38MP photo (34MP for wide-angle) and an oversampled 5MP version with lossless zoom as well.
Putting the advantages and the disadvantages right across the table, the hits are that the device has a best-in-class imaging experience with a beautiful display and a very dependable battery life. It has a smooth performance and is made of real substance, promising a solid build quality and materials. The misses in the device aren't much. The phone can be a bit awkward and is slightly uncomfortable to hold. It also has a few bugs, which do not appear often. But despite the misses, the phone is a real pleasure to own, especially for those who consider photographic quality important.
The Lumia 1020 is the best Windows Phone according to people who have tried it. Even while it's a little difficult to hold conveniently, the phone offers the best camera in the industry.