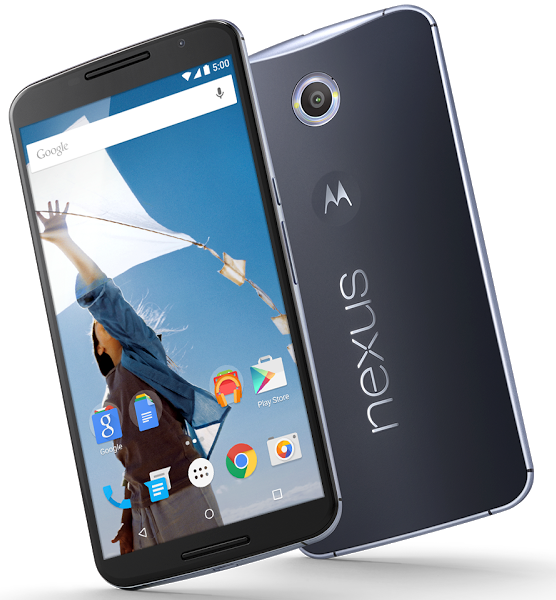 Well, Nexus 6 is a Google phone that is thicker, wider, and taller than Samsung Galaxy Note 4. It's an enlarged version of the Moto X and shares similar design language. To give your fingers some rest, a nice dimple and smooth curve have been provided at the back of the phone.
The back of the phone is made of plastic and is resistant to scratches. The two front-facing speakers are very loud and can damage your eardrum if you put the phone up to your ear with full volume.
The 6-inch screen size is a big reason for Nexus 6's existence. The resolution is 1440 x 2560, which at 493ppi, sits between the Note 4 and iPhone 6 Plus in terms of pixel density. Showing content on your phone to other people is easier because of larger space on the phone screen. You can easily type on it or turn it into a movie-watching gadget.
To save power, Motorola has added a feature extension called "Ambient Display" that just pops up notifications without powering on the complete screen.
The Nexus 6 has a fair battery life according to phablet standards. It has a 3220mAH battery that can give the device power for a day and a half. But if used heavily, it dies out after 14 hours. Android has finally introduced battery save mode which turns off the background data. Also, a few hours of charge can be added in just 15 minutes of charging via higher voltage compared to that of a standard USB charger.
The phone is indeed super-fast. With its 2.7 GHz quad-core snapdragon 805 processor and 3GB of RAM, app installations and playing games seem pretty smooth.
The past experience with the same lineage of phones has been consistently bad with cameras. But this time, Motorola has introduced a 13-megapixel sensor similar to the 2014 Moto X, with stabilization. Android 5.0 Lollipop has also been introduced with the concept of "Material design", which conceives a world of magic paper underneath your Nexus 6 screen.
With the improved notification update in Lollipop, you can check and interact with it on the lock screen itself. Besides, Google has added a "Do Not Disturb" mode called a priority mode that can help you take complete control during meetings and other situations where you do not want to use your phone. .
As compared to last the couple of Nexus phones, the Nexus 6 is incredibly expensive with the support of the big carriers in the US.