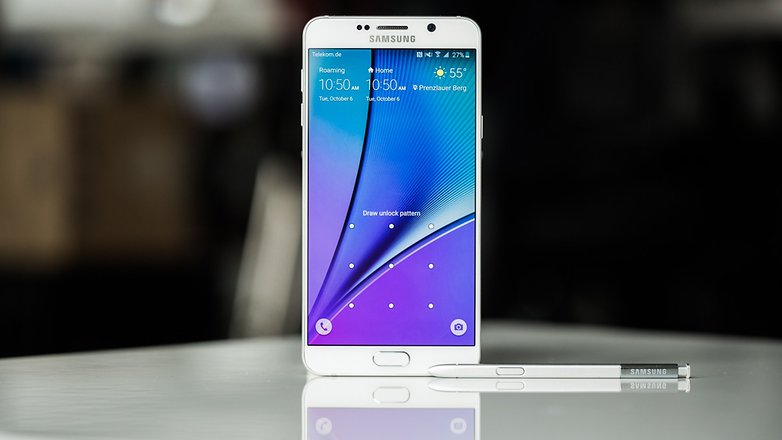 The rumor mill is running hot right now. The fans already seem quite excited for the Samsung Galaxy Note 6. Loads of speculations and assumptions regarding the launch date, specs, price & availability are making the rounds on the internet. So, is the king of phablets going to return to the top this time? The rumors claim something bigger and better but we'll give you a mega update on the same.
Samsung is among the biggest players in the smartphone market in the world. In 2011, the original Galaxy Note was announced which was a commercial success. The Galaxy Note series is the first commercial example of phablets- which is considered as a class of smartphones with a large screen. The Samsung Galaxy Note 6 could be one of the biggest smartphones of 2016. And here's everything we know about the Samsung Galaxy Note 6, from release date, features, specifications & performance.
A bigger display
It's going to be bigger this time! If rumors and reports are to be believed, then Samsung is testing two variants of the handset for a completely new redesigned phablet. The one is with the flat screen and another is tested with a gorgeous curved display. Both are tested with 5.8 inch or nearly 6-inch screen sizes and the QHD resolution of 1440×2560 pixels. But which model will see the light of the day is still a mystery. Though no confirmation on the screen style (flat or curved) the brand is working on a slimmer, ultra-lean display to make the panel lighter.
Take a look at some eye catching specs:
8GB RAM
Expandable internal storage (16/32/64/128/256) GB
30 MP primary Camera
16 MP front facing camera
Fast Charging Technology
4K Foldable display
4000 mAh battery power
Snapdragon Qualcomm octa-core 2.9 GHz processor
Better battery
Ideally, a big phone requires a big battery to match and we believe that Samsung is not going to disappoint its fans. A latest leak suggests that for the Samsung Galaxy Note 6, a battery of 4000 mAh will be used. Earlier, the Note 5 used a 3000 mAh battery in the devices. Well, if this is to be believed, then this seems a great improvement in battery power.
Release
Samsung Galaxy Note 6 was recently expected to be launched in July instead of August. Perhaps Samsung doesn't want to clash this phablet with the latest iPhone so as to get more exposure. Well, the latest release of the Galaxy S7 has been a big hit and the device was globally appreciated a lot by its fans!
A brilliant camera for your selfie love!
Samsung knows your Selfie love, folks! Galaxy Note 6 would feature an amazingly brilliant camera this time. The selfie trend (or addiction) is running high on the minds at Samsung! And that's why the expectations are set to be on a 30 MP primary camera with a 16 MP front facing camera with auto-focus and optical image stabilization features.
Performance
This smartphone indeed would be very high end and impressive! The Galaxy Note 6 is expected to be shipped with 8GB of RAM with a foldable display of 4K resolution; but earlier leaks reported of 6GB RAM. When it comes to the processor, Samsung will power its newest offering using its in-house processor, the Snapdragon Qualcomm octa-core 2.9 GHz processor.
Summary: We know that the fans are enthusiastically waiting for this device to enter the market soon. We'll keep you updated with latest news. Till then, stay tuned for more interesting news and updates on the Samsung Galaxy Note 6.