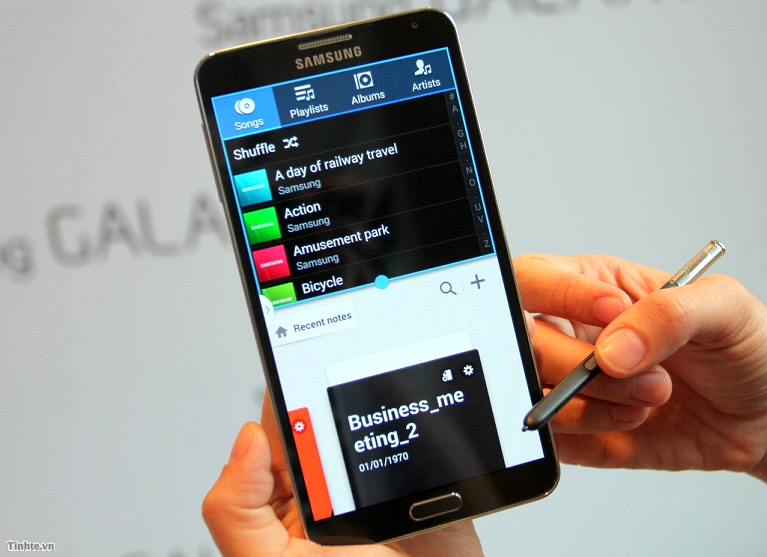 Having experienced working on small gadgets fitting snugly in our pockets, we now enter the era of the phablet. The device that makes all other phones seem comically small is slowly becoming people's favorite and an unexpected hit.
The bigger and better handset by Samsung may not be artwork but can certainly be termed a beautiful device. The Note 4 is quite usable as it has been made very thoughtfully. Even though bigger in size, it fits in your hands pretty nicely such that the buttons and the screen are intuitively placed and easily accessed. The stylus is almost invisible until you pull it out and unlock the device.
For those looking for Samsung's traditional removable battery or SD card slot, the device won't disappoint them. The thin back slips off effortlessly and reveals the strong 3220 mAh battery and a small slot for a MicroSD card. Although the back cover appears to be too thin and flimsy, it is sturdy enough to keep things safe in the back of the device.
The screen, which is a full 5.7 inches, displays 2,560 x 1,440 pixels at 515ppi. With such great specs, it offers a great experience for reading, drawing, and general use. For a phablet, the screen is actually the best part and is great for people who can't see the font on smaller phones. As far as the phone's camera is concerned, Samsung deserves accolades for packing so many pixels onto such a small surface. It has a Snapdragon 805 processor that runs a Quad-core Krait 450 CPU at up to 2.7 GHz per core. Flaunting such high-end specs, the phone assures fast service for everything.
Samsung has packed an entire laptop's worth of features into its package of phablets and has indeed done a good job of it. The device is a solid, useful, and usable phone designed for users who need a bit more real estate or at least for those with big hands. For many, the device promises to make them phablet converts, and this is certainly the best of the breed.
Read more at http://tcrn.ch/ZG4hN0