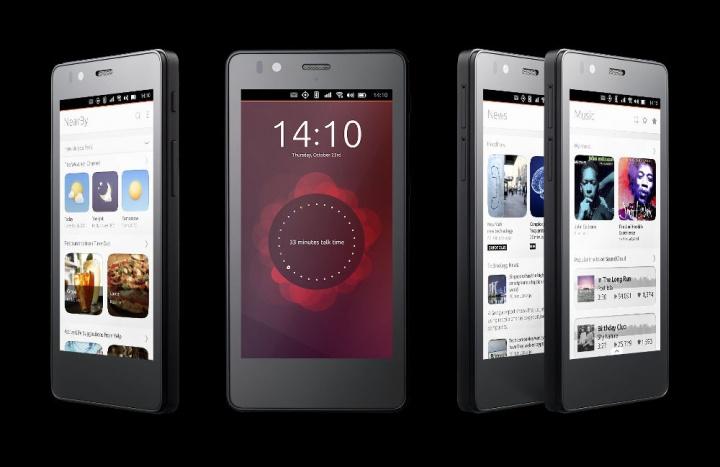 After an entire year of talks doing the rounds about Ubuntu's first smartphone and everyone getting curious, the British company Canonical has finally managed to bring the world's first Ubuntu operated phone – BQ Aquaris E4.5 to the market. The smartphone has been developed by BQ, a Spanish company, and will initially be available in Europe. This rebellious phone will definitely change the way of interaction as seen in existing smartphones.
Interestingly, the Ubuntu arrives without any apps. Instead, the device introduces "Scopes"–a modified look into the mobile user interface. Scopes are "simple" dashboards that resemble Android widgets and will be responsible for integrating content and services in an excitingly new user friendly way. They will bring in content like music, videos and news in a series of home screens instead of separate players and apps rather than just laying them separately in grids the way it happens in Android and iOS based phones. This will make it easy and comfortable for users and will save them the inconvenience of scrolling through screens of icons to find their app.
The Aquaris E4.5 is powered by a MediaTek SoC with 1.3GHz quad-core processor with an internal storage that sports 8GB and can be further expanded through a MicroSD slot. The smartphone features a 4.5 inch qHD display with 960×540 pixels of resolution, an 8 megapixel rear camera and a 5 megapixel front-facing camera. All these are the kinds of specs that the urban consumer looks for in a handset and so we expect that those searching for such features will find their answers in this new device by Canonical. The phone has Dual SIM support and the battery capacity is 2150mAh, stuffed in a 137 x 67 x 9 mm body weighing 123 grams. For those who largely depend on their phone cameras for all kinds of picture captures, this handset seems to have delightful specifications. Its main camera, in particular, features autofocus, dual flash and full HD (1080p) recording ability. It is also equipped with high-quality BSI sensors and a Largan lens.
The operating system isn't the only thing that is different in this phone. Unlike other mobiles, this smartphone will be sold in a completely different way. It will come out in flash sales that will continue for only a limited time.
Ubuntu is a totally different concept in mobile operating systems. It is an 'upstart OS'–a potential alternative to Android or iPhone. The BQ Aquaris E4.5 Ubuntu Edition will be showcased at the industry trade show Mobile World Congress 2015.