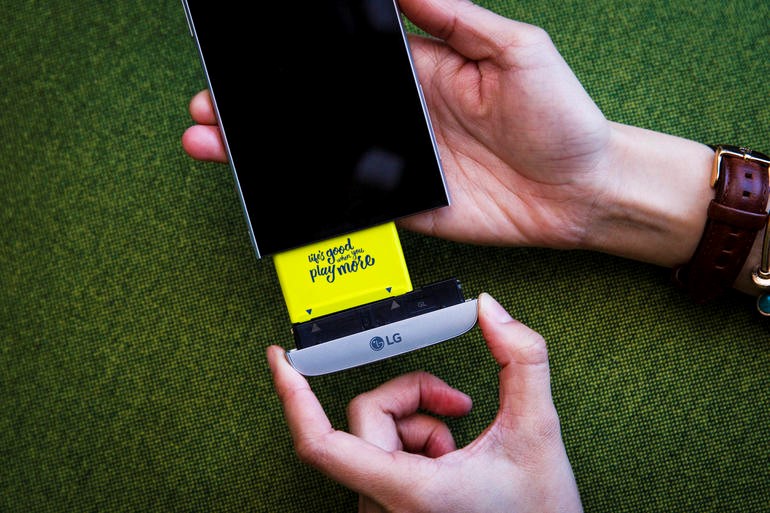 It's tough competition out there for smartphone makers and LG has taken a bold step to shake things up with the G5. The phone is not just a new version of G4, it is different in a lot of ways. It has a bunch of new features and specs but, unlike nearly every other phone that'll be released this year, it has something completely new, something 99.9% of people had no idea even existed until earlier today.
Let's have a look at what's new in LGs new G5
Design & Build
If we talk about the design and build of the G5, the phone looks completely fresh and unique. The design is subtle and premium. The phone's corners are smooth with an excellent build material and there isn't an antenna band in sight. The LG G5 is expected to come in four colors – Pink, Silver, Titan and Gold.
Hardware & Specifications  
The LG G5 features a 5.3 inch screen, though it's smaller than its previous two models. Like Samsung, the G5 is powered by a Qualcomm Snapdragon 820 processor. It's a quad-core chip and has an Adreno 530 GPU all backed up by 4GB of RAM which looks like it will be the standard for Android flagships this year. The internal storage is 32GB and LG continues to offer expandable storage with the Micro-SD card slot which supports up to 200GB cards. Also, the smartphone features a removable battery of 2,800mAh.
Camera
It's impossible to do a proper camera test during a "first Look" but the specs are notable. The smartphone has two cameras on the rear, one camera with a standard 78-degree lens and another with a 135-degree wide angle lens, one of the widest available in any smartphone. The 135-degree lens on the LG G5 offers a viewing angle that is approximately 1.7 times wider than those of existing smartphone cameras and 15 degrees wider than the human eye's field of view. The wide angle lens makes it easier for users to capture more landscape, taller buildings or larger groups without having to position oneself further from the subject.
Software & Apps
As expected, the LG G5 comes pre-installed with Android 6.0 Marshmallow which is the latest version of the mobile OS and also LG's own UX 5.0 UI. So, you can say the device is powerful and will perform brilliantly. There's not much else to say about software because most of the things are the same as they were before.
By introducing the new metal design, the LG G5 has done something quite different. The initial analyses depict the LG G5 is one of the most innovative smartphones of the season.