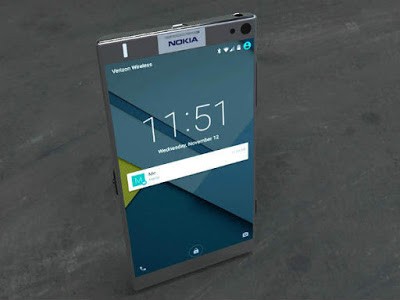 Finally, it seems as if Nokia is all set to hit the mobile space once again. The company has confirmed this news via a press release. The long wait of ages is over. Nokia is likely to launch its very first smartphone in the form of the Nokia C1. This smartphone is Nokia's expensive investment on Android technology to restore its reputation in the mobile space.
There have been plenty of rumors making the rounds on the internet about this amazing smartphone of Nokia for some time. Honestly, selfie freaks and movie lovers are going to fall in love with this phone. The Nokia C1 is expected to impress smartphone lovers with a bigger display, improved memory, and processing speed. Additionally, the company is going to launch the Nokia C1 in the market with plenty of more technically superior features and specifications in two different variants.
Looking at the Specifications, Nokia Is Coming Back Very Strong in the Game. 
Talking about its release date, the rumor mill is running fast on the internet yet none of them have been confirmed as news from Nokia.  However, Nokia C1 is not expected to be available for users either before the end of 2016 or before the end of first quarter of 2017.
Coming back to the point, the Nokia C1 is rumored to have been loaded with a number of lip smacking specifications listed below to take its performance to the next level:
13 Megapixel front camera
5 Megapixel Secondary camera
Bluetooth Version 4.2, A2DP
Available in black, gray, white and peach colors
Card slot for expandable memory is yet to be confirmed
32 GB internal memory with 2 GB RAM
5.5 inches multi touch display capable of supporting 1080*1920 pixels
Android 6.0 (Marshmallow) operating system
Qualcomm MSM8976 Snapdragon 652 Chipset
Octa-core (4×1.8 GHz Cortex-A72 & 4×1.4 GHz Cortex-A53) processor.
Non-removable li-ion battery
The company is planning to exceed user expectations and requirements through an easy to use and customized graphical user interface and user experience. Remember, both of the variants of the Nokia C1 will support different camera setups.
The List of Rumored Features of Nokia C1:
NOW HMD, a company founded with the objective of securing new growth and customers with independent growth and focus to its smartphones, tablets and feature phones, is the parent company of Nokia. Therefore, it will be very interesting to see what kind of features the Nokia C1 provides to the users to help Nokia mark an exciting comeback in the market. Listed below are some of the rumored features which enhance the performance of Nokia C1 Smartphone:
Steel Body
IPS LCD capacitive touchscreen
A perfect combination of front and rear camera
HD Audio and Video Quality
Connectivity to stay connected with the world
Ultra-fast charging
IPS LCD Capacitive Touchscreen:
If you love nothing but high quality digital experiences, then the Nokia C1 is your best digital friend with its 5.5 inch display size. With compatibility for 1080*1920 pixels, users can relish the very best of IPS LCD capacitive touchscreen's performance offering the facility of multi-touch.  Just a glance of your finger and the job is done! Wouldn't you like something like this?
A Perfect Combination of Front and Rear Camera:
Pictures come to life with Nokia's C1 smartphone. Selfie lovers will fall in love with this phone. Its high quality front camera of 13 megapixels and 5 megapixel rear camera capture lifelike pictures and make them the most precious memories of your life with the following features.
Geo tagging
Touch focus
Face detection
HDR Panorama
Support for 1080p@3fps video recording
Click photos and record videos with Nokia C1 now. Take them anywhere! Enjoy them anywhere!
HD Audio and Video Quality:
Enjoy your favorite music to the fullest with the Nokia C1's HD Audi and Video quality. HD loudspeaker and support for a 3.5 mm audio jack are some of the best things to help you listen and watch music.
See also: LG G6 and Samsung Galaxy S8
Connectivity to Stay Connected with the World:
Nokia C1 is your best friend in any part of the world. This amazingly smart smartphone keeps you connected with all your near and dear ones from any corner of the world. It is based on the Qualcomm MSM8976 Snapdragon 652 Chipset with Octa-core processor to help you relish lightning fast upload, download, browsing, data transfer and internet connectivity experience.
Are you tired of waiting for your phone to get charged fully? Don't worry! This is not the case with Nokia C1 smartphone as the non-removable li-ion battery of this GSM/HSPA technology based phone gets charged very fast.