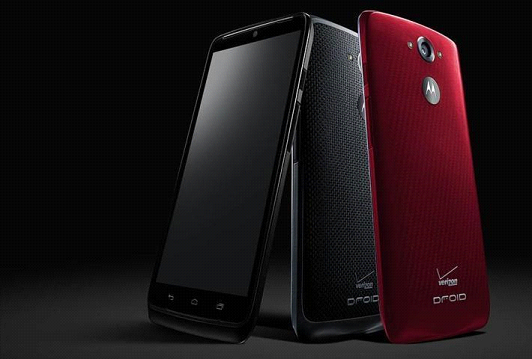 The Motorala Droid Turbo is a sturdy smartphone with more ample dimensions that have a set purpose. The solid chassis makes the handset feel reassuring to hold with that prominent curve helping the Turbo rest comfortably on your palm. More importantly, the protective outer shell has been made with a purpose to keep the precious inner composition intact. Even though the outer shell is not very impressive looking, the hardware inside it is robust. Turbo's hardware holds together a speedy quad-core 2.7GHz Snapdragon 805 processor chip, 3GB of RAM and a tremendous 3,900mAh battery. The front is somehow even less visually interesting but when the 5.2-inch Quad HD screen comes alive, the handset's front becomes quite appealing in appearance. Other than that, the front of the phone sports a wide speaker grille nicely placed above the 2-megapixel front-facing camera, and the capacitive touch buttons beneath the screen.
The biggest addition here is Motorola's Droid Zap feature which is a cool tool that lets you fling photos and videos to people nearby or onto a Chromecast. Droid owners can also set up specific regions called Zap Zones to speed up the sharing. Once activated, in a way, you're broadcasting every photo you take to a pre-selected group of people.
In regard to the phone's camera, Motorola seems to have learned from one of its biggest failings in the case of the Moto X's lackluster 13-megapixel camera. They have worked on it now and the Turbo packs a 21-megapixel rear camera with a wide f/2.0 lens, which is indeed a great combination. The full-resolution photos look crisp and vivid although low-light performance is not all that great.
With a solid body and rich hardware, Turbo seems to be a promising smart phone. Its long battery life, attractive Quad HD screen, powerful performance and a much improved version of the camera (as compared to Moto X) this device packs specifications of a well-built and well-composed smartphone.
While it lacks the style and charm of the 2014 Moto X, the Droid Turbo is a small power packed machine that happens to outperform its relative in nearly every important aspect. However, many of you may not be able to lay your hands on it because it's a Verizon exclusive phone.