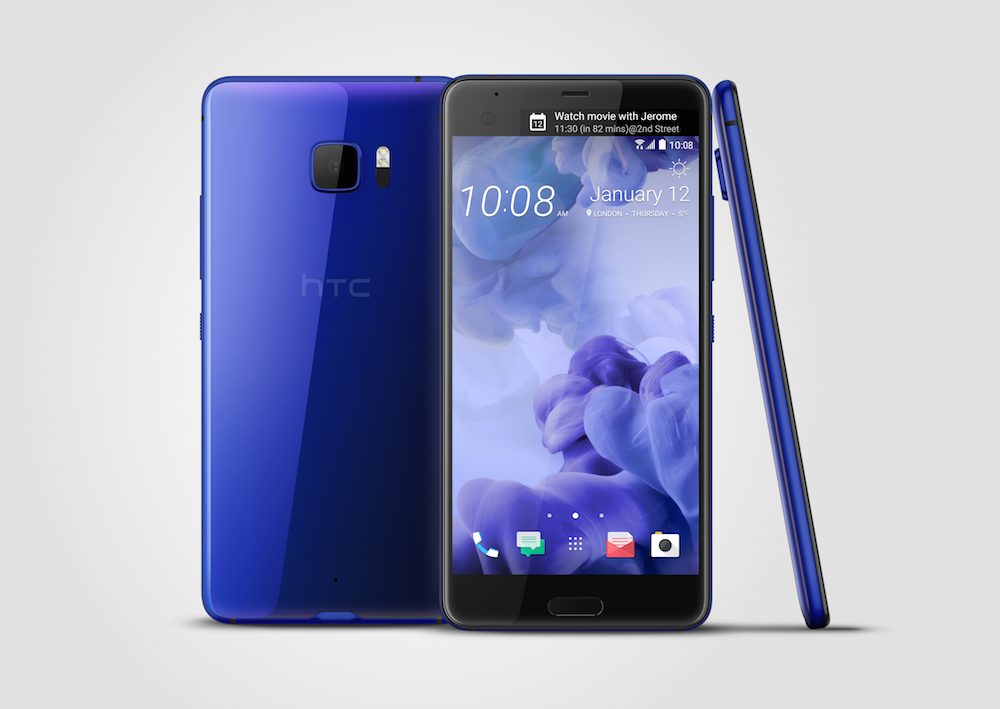 After the introduction of the Samsung Galaxy Note S7 Edge and Apple iPhone 7 in 2016, it is time to move to 2017 and meet the HTC U Ultra. HTC is coming into the smartphone market in March 2017 with the HTC U Ultra, having a very sophisticated new liquid surface.
HTC has developed and designed this phone with the objective of giving you the perfect chance to experience the very best of your photogenic personality. The specifications of the HTC U Ultra will help you in this process like no other smartphone available in market.
HTC U Ultra offers you a lot towards being your perfect companion in the best possible manner. It will assist you like a best friend in all your vital everyday tasks. Its ability to interact with weather conditions and understand your needs in real time makes it the best in the category of smartphones.
Ultra Smart Specifications of HTC U Ultra
The HTC U Ultra has the capability of recognizing your natural voice and respond to it. It will respond to your command even if it is asleep. You just need to say a word to your phone and it will unlock. Let's take a good look at some of the key specifications of the HTC U Ultra to have plenty of reasons to buy it:
Network compatibility with GSM/HSPA and LTE
Supports 2G, 3G and even 4G network bands
Supports Dual SIM
Lightweight
7 Inch Display size
1440*2560 Screen resolution
Multitouch
Corning Gorilla Glass Protection 5 for 64GB variant
Sapphire crystal glass for 128 GB variant
05 inch secondary display capable of supporting 160*140 pixels.
Android V7.0 Nougat Operating System
Qualcomm Snapdragon MSM8996 Snapdragon 821 Chipset
Quad-core CPU
Adreno 530 GPU
microSD card supported up to 256 GB
12 MP front camera
16 MP selfie camera
5mm audio Jack
Non-removable Li-Ion 3000 mAh battery
Superfast battery charging
Supports the latest Wi-Fi technology like WI-FI Direct and Hotspot
Bluetooth v4.2 A2DP, LE
USB v3.1 Type –C1.0 reversible connector
Availability in brilliant black, cosmetic pink, ice white and sapphire blue
After going through so many features of the HTC U Ultra coming in the market, you would surely like to explore some of its features.
Ground Breaking Features of HTC U Ultra
This phone has everything to be your personal companion in the best possible manner. Therefore, it becomes important for you to know its key features in detail.
Natural Voice Recognition built-in
This is definitely a groundbreaking feature of the HTC U Ultra. You don't need to type in anything to be able to search on internet. Just speak in your natural tone and its built-in voice recognition feature will do the rest for you. It can help you get rid of your boredom.
In simple words, you can talk to it just like you talk to your friends and family and it will respond to you in a very similar way.
You don't need to draw a pattern or enter a numeric password to unlock it. Simply speak a word and HTC U Ultra will unlock itself automatically. Just speak to get anything done and it will respond to your voice queries or commands even if it is asleep. This feature is certainly going to add to the performance of HTC U Ultra.
5.7 inch Display Size:
It has a Super LCD5 capacitive touchscreen display and supports 16M colors. Its screen resolution of 1440*2560 takes your photo or video viewing experience to the next level.
It is Multitouch and comes with Corning Gorilla Glass protection 5 for 64 GB variant. As for 128 GB variant, HTC U Ultra will come into the market with sapphire crystal glass.
Secondary Display
Buying the HTC U Ultra can be one of the best decisions made by you. It has two screens. Its secondary screen of 2.5 inches supports 160*140 pixels.
Its Phablet size screen makes it one of the best phones for routine activities, whereas the secondary screen ensures hassle-free access to the apps you use the most in everyday life.
This is the one feature that no other company has given to its users so far. This one feature will make the HTC U Ultra standout in the market of smartphones.
Innovative Front and Selfie Camera
It gives you a great chance to turn your memories into lifelike photos. With its face detection autofocus, dual LED flash, geo-tagging, touch focus and Auto HDR Panorama features of the HTC U Ultra, you can redefine your experience of clicking photos and recording videos.
Its 16 MP Selfie camera is the most eye-catching feature. It gives a good chance to click amazing selfies even in the dark. We all know that many good memories are made in the dark.
Ultimately, the HTC U Ultra captures the very best of you even in adverse circumstances through its amazing camera quality. However, what sets it apart from its market rivals is its ability to recognize and respond to voice commands and queries even when it is switched-off.
Now let's see the kind of magic it creates in the market.
See Also: Vivo V5 Plus